Pet Dentistry for Dogs and Cats in the Surrounding Areas of Grand Junction, Fruita, Clifton, Orchard Mesa, and Redlands, CO
Does your pet's breath stink so bad that it makes you turn your head away and breathe through your mouth?
If you have a pet with stinky breath, it's not necessarily true that it's just something you must put up with. The majority of the time, this malodorous problem is due to periodontal disease, something that can be treated with professional, veterinary dental care. Periodontal disease causes smelly breath because dangerous bacteria multiply under the gums causing not only a foul odor but also, in combination with inflammation, will cause bone destruction around the tooth roots. This can result in loose, infected, painful teeth, and eventual tooth loss. Unfortunately, the immune system is not always able to contain the infection in the mouth, which can allow bacteria to escape into the blood stream and cause infection in other parts of the body.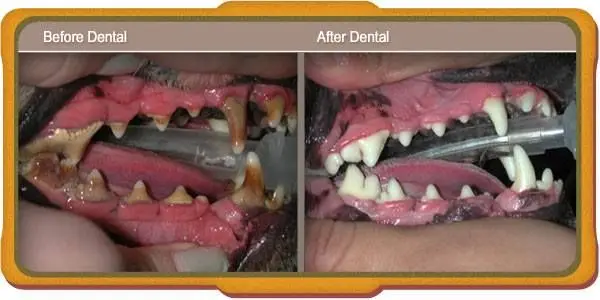 First-Class Dental Services from Our Veterinarians at Redlands Pet Clinic in Grand Junction, CO
Fortunately, Redlands Pet Clinic can help. One of Dr. Turrou's main interests is veterinary dentistry. He has taken advanced courses in veterinary dentistry, has gone to national veterinary dental meetings, has purchased high-quality, specialized dental equipment, and enjoys helping your furry friends become close members of your family again, relieved of the pain that is often associated with dental disease.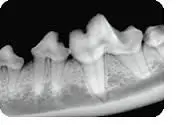 The first-class dental services at Redlands Pet Clinic are designed to give your pets all of the care and attention needed for a healthy, pain-free, fresh-smelling mouth. Our veterinarian, Dr. Bob Turrou, provides not only routine, preventative care to remove plaque and tartar, but also advanced treatment for existing oral conditions. Whether your friend needs an annual dental exam, cleaning and polishing, or it needs a tooth removed or bonded, Dr. Turrou wants to be of help. Our dental procedures include the use of safe, effective anesthetics, specially-designed heating pads to prevent hypothermia, and constant anesthetic monitoring to help ensure our patients' safety.
Some of the common symptoms of dental disease in our pets include, but are not limited to:
Stinky breath
Abnormal amount of drooling
Food dropping out of the mouth
Unexplained disinterest in chew toys
Poor or even absent appetite
Swollen, often painful, side-of-the-face below the eye
"Trying to get something out of the mouth" with the paws
Brown, cracked or broken, loose, and sometimes missing teeth
Red, swollen, and sometimes bleeding gums
Please call us to make an appointment if you notice any of these signs. We will find out what is causing the problem, and quickly address it, helping your beloved pet get back to normal as soon as possible.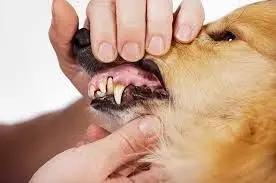 Make Sure Your Dog's and Cat's Teeth and Gums
are Healthy and Clean
After treating your pet's dental problems, our veterinary team will help you learn what you can do to ensure that your pet's teeth and gums stay clean and healthy all year-round. Between yearly cleanings, it is very important that you brush your friend's teeth on a regular basis. It is recommended that this be done at least every other day, but doing so daily is ideal. Our veterinarians will be happy to demonstrate the proper brushing technique and give you advice on different dental products that you can use.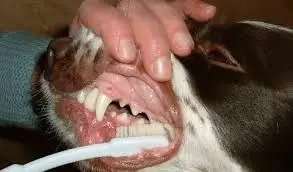 Dog and cat teeth are like ours in many ways. What would happen if we got our teeth cleaned and polished by our family dentist, but we didn't brush and floss them daily as is recommended? This is what would happen: our teeth would be covered with tartar in no time at all! Would that be our dentist's fault…or our own? Brushing your pet's teeth is considered the "gold standard" to help reduce plaque and tartar. Just as with people, nothing will totally prevent tartar from forming again, but if you can take care of your friend's teeth by brushing them, you will increase the interval between needed professional cleanings.
Dr. Turrou and his experienced, friendly staff at Redlands Pet Clinic want to help you and your furry family member become close and snuggly once again.